Undoubtedly, you can stimulate
:: the penis using just your hands and fingers. The success is guaranteed: you will reach the highest delight and, as a result, the ejaculation. But the man that doesn't want to work with a hand should possess something exceptional. And it is numerous sex toys: sex dolls, realistic vaginas, dildos, and many others. As compared with hand masturbation such devices have some advantages: after their use, the penis doesn't look slack and drooped. Such a toy can work without a break. The hands are free and you can, for example, page your favourite magazines and books. Thus, you get the illusion of penetrating in the vagina, anus or mouth. You feel warm and flexible material, and it resembles as if you having sex with a real woman.
Realistic vagina is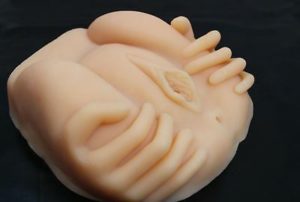 :: a sex toy, in the form of the female genital system, stimulating the penis. The role of artificial vaginas is extremely high in the prevention of various diseases, like prostatitis and adenoma of the prostate. All these diseases are very dangerous for the whole male genital system. To avoid this, ejaculation should be as frequent as possible. Of course, artificial vaginas can't replace real women but the feelings during their use are very perceptible. Thanks to very active massage and various nubs, placed inside the vagina, the orgasm is very strong. Any vagina enfolds the penis tightly so the feelings are very similar to those that appear in a young woman. The models of vaginas vary in form and price. There are simple models and models with vibrating motors or pneumatic devices. Moreover, there are models with simple appearances and models resembling real prototypes of female genitals. Realistic vaginas are used not only for masturbation but also to erect the penis before sex.
All sex toys
:: have many advantages. One of them is the possibility to try new types of sex, for example anal. All realistic vaginas took as a prototype the genitals of chic porno stars. Besides, they have an imitation – realistic anus, so, if you have a desire but your woman doesn't want or is afraid of such sex, you can try it with this sex toy. Many know-how realistic vaginas are considered an extra class and deserve special attention. Some realistic vaginas have built-in heated pillows imitating a hot woman's body. The most amazing is the spraying device with help of which a "female secretion" exudes.