Rabbit vibrator
:: is a sex toy designed for stimulation of the clitoris and vagina with the help of pulsations, which has a speed controller. Clitoral stimulation is very important during sex because the overwhelming majority of women reach orgasm due to intensive clitoral stimulation. Most rabbit vibrators have multiple controls, which give you the total control to excite all erogenous zones at the same time with the help of just one sex toy, which is a rabbit vibrator. There are various types of rabbit vibrators: from original jack rabbit vibrators to vibrating bears, dolphins, beavers and other shapes used to stimulate vulvar lips and clitoris while the dildo shaft penetrates the vagina for internal sensations. There are rabbit vibrators made of soft jelly material, which respond to the most up to date technologies. The cute rabbit will pet your clitoris till the wave of orgasm covers you.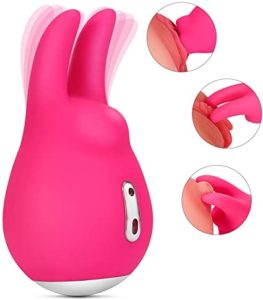 Before using
:: rabbit vibrator for the first time it is necessary to cleanse the toy with antiseptic and to wash it with warm water. The most hygienically is to use a rabbit vibrator with a condom. Treat sex toys with water-based lubricant; it will allow avoiding discomfort during use, and it will also reduce the risk of injury. After using, cleanse the rabbit vibrator with warm water, avoiding the penetration of water into the battery's socket. Don't use oil-based lubricants, because it may spoil the material the vibrator is made of. In any sex store, you can find various kinds of lubricants for you and your rabbit vibrator. Don't boil the toy, it should be kept in a dry, dark place.
Rabbit vibrators
:: are multi sensation vibrators, and not all of them necessarily have a rabbit ear design. There are also many variations of vibrators that are called the general term rabbit vibrators. Most vibrators have controls that allow control of vibration intensity for the outer vibrator, and most have a separate control that allows adjusting the stimulation of the inner action. Some rabbit vibrators have a simple vibrating shaft for inner stimulation, but most have advanced functions such as thrusting the head, spinning beads, and rotating the head. There are many more options that have been incorporated into the new rabbit style vibrators, some include interesting features such as waterproof designs, rechargeable batteries, glowing lights, straps and many more functions that are able to spice up your life.